I feel like this week just flew by, how is it Sunday again already? And February 10th? We're more than 1/3 of the way through the month! I don't understand how some weeks just drag on forever and others fly by. This week was pretty busy at work, so that may have helped with how fast it went...
Anyway, it's Sunday Social time again, so here we go!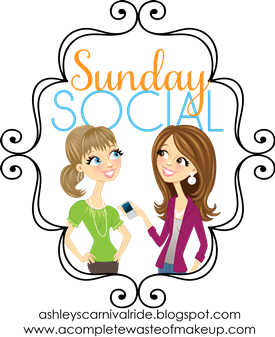 What was your first car? This question doesn't really fit in the childhood category for me. I was a late bloomer and didn't actually get my license until I was 23. The first car I drove was a 2000 Honda Civic. My parents actually ended up giving it to me as a wedding present. We traded it in a couple years ago for a newer Civic. 
Who was your favourite childhood teacher?
My grade four teacher, Mr. Morris, was my favourite. He didn't treat us like little kids, and I loved that.
Were you involved in any sports/extracurricular activities? Share pictures if you can!
I started playing ringette when I was six and I've played every winter since. I even coached for a couple years. I can't imagine not playing, it's what I do!
I was also involved in Guiding - I was a Brownie, Girl Guide and Pathfinder. I played the clarinet in the school band from grade 6 to grade 10 but I try not to dwell on that. I'm not a very musically inclinded individual...
What was your favourite birthday party? I don't think I really have a favourite from childhood... I remember really enjoying my 18th birthday though. A big group of us went out to eat and the boy I had a crush on offered to drive me. I loved pretty much everything that year - I was in grade 12, I had amazing friends, and I felt like we could do anything.
Who was your teen celebrity crush? I was totally boy crazy, my room was plastered in posters! Nick Carter and Zachery Ty Bryan were the two big ones though.
What show/movie did your parents now allow you to watch? There really wasn't anything that I can remember not being allowed to watch. Truthfully I probably wasn't really interested in anything my parents didn't want me watching.
Enjoy your Sunday everyone!