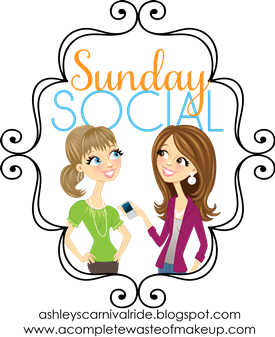 It's Sunday again so I'm linking up with
Ashley
and
Neely
for Sunday Social. Believe it or not, despite being a girlie girl lover of all things pink and glittery, I am not a huge lover of Valentine's Day. However, I'm trying to get into some blog "habits" and Sunday Social is one of them so here we go!
1. What is the best Valentine's Day you've ever had?
When I was in grade 12 a big group of us got dressed up and went out to a really nice restaurant for dinner. I loved grade 12. I had some amazing friends and we all felt like we had the rest of our lives ahead of us.
2. What is the worst Valentine's Day you've ever had?
I don't think I've ever had a "bad" Valentine's Day. There were a couple years that I was single and my closest girlfriends all had boyfriends that were kind of lonely, but that's about it.
3. What did you do for Valentine's this year?
Just a quiet night at home. (You can read about it here if you're interested.)
4. What is your best Valentine's idea if you're single?
Going out with a big group of friends.
5. What is your favorite Valentine's candy?
I love Hershey Kisses. They're kind of our thing. :-)
6. Favorite Valentine's memory from your childhood?
I don't really have any. It wasn't a big deal in my house.
Have a great week everyone!