Happy Tuesday!
I love Tuesday, it's my day off. Jonathan and I both used to have Friday off together. (He worked four 12-hour days.) But with his new job he's Monday to Friday. Unfortunately, in my line of work Monday to Friday isn't an option. I work pretty much every Saturday and one Sunday a month. Because it's a slower day, Tuesday became my day off. And it's lovely. As nice as having a day off together was having a day off by myself is really nice too. I get my house cleaning done (well, some of it) and I catch up on my favourite shows (just watched 3 episodes of What Not to Wear...) or I curl up with a good book. It's nice to have a bit of alone time. And I think it makes me appreciate our evenings together more.
Getting down to business now, I'm linking up with
Leslyn
again for Tuesday's Tunes.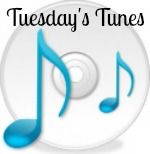 Today I'm sharing Kelly Clarkson's newest single. I love Kelly Clarkson. I don't know what it is, but I love belting her songs out! This one is no exception.