I started my new job yesterday. It was scary and exciting and overwhelming all at once. Every store is very different. I have about 70 staff working for me, but the majority of them are students who work one or two shifts a week. (My new store is downtown close to a number of university residences.) There's a new store manager there as well. My first day was good, spent most of the day meeting people and trying to figure out how things work there. I found a couple things I'd like to improve on, but luckily the department runs pretty well.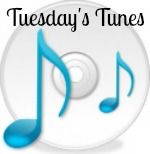 For Tuesday's Tunes this week I decided to share a new favourite and an old favourite by the same group. I'm very excited about Bon Jovi's new single,
Because We Can
. I love Bon Jovi. My all-time favourite song is actually
Always
by Bon Jovi so I decided to share that one too. And then, just for fun, I included
We Weren't Born to Follow
.
Not sure how much blogging I'll get done this week. I usually use Tuesday for doing some planning/scheduling and unfortunately it's not my day off this week. (I'm working tonight.) I'm not off until Saturday and we're actually going away for the weekend. I'll try to get some stuff done in the evenings, but we're car shopping (!!!) so I'm not sure how much time I'll have. Don't forget about me! :-)